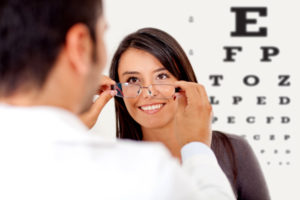 Are street signs becoming blurrier for you when you are out driving? Do you need to hold your phone further away when you are reading a text? Maybe you are squinting while watching the television? If you answered yes to any of those questions, then you may want to get your vision tested with an eye exam by the staff at Integrity Eye Associates.
Our mission is to help the residents of Pennsylvania living in areas like King of Prussia, Paoli, and Wayne, PA, receive the proper eye care they need to see life more clearly. With an eye exam at Integrity Eye Associates, you might find that prescription glasses or contacts may be just what your eyes needed.
Having an eye exam conducted by an ophthalmologist is vital for detecting and helping prevent optical diseases. If you or someone you know is experiencing the eye problems listed below, you should contact Integrity Eye Associates for an eye exam as quickly as possible: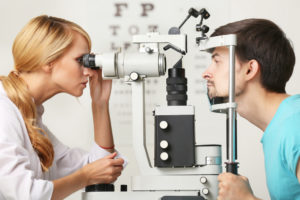 Eye Pain
Decreased Vision
Double Vision
Diabetes
Flashes of Light
Halos (while looking at lights)
Floaters
Regardless of age, eye exams are an important procedure to have done. The Centers for Disease Control and Prevention estimate that 61 million adults in the United States are at high risk of losing their eyesight, but only half of those people have visited an eye doctor in the past year. Also, close to 11 million children over the age of 12 are in need of vision correction.
The eye doctor at Integrity Eye Associates is highly trained and has knowledge that is second to none in the area. During one of our routine eye exams, you will undergo more than just a basic Snellen Eye Chart Test. You also will be tested on your visual sharpness or acuity, ocular motility, depth perception, structure of your eyes, refractions and conditions like chronic dry eye, glaucoma, cataracts, computer vision syndrome, and macular degeneration.
Monitoring your eye health and detecting and treating any conditions you may have is simple when you visit Integrity Eye Associates for an eye exam. Since many eye-related problems are hereditary, it helps to know the history of your family's eye health. Following your eye exam with us, we can help you find the perfect eyewear, from designer eyeglasses to prescription sunglasses. We have everything you are looking for, including designer frames to go along with your favorite brand.
People of all ages living in towns like King of Prussia, Paoli, and Wayne, PA, should visit Integrity Eye Associates and meet with our top staff members to make sure their vision is being properly taken care of and their eye health is maintained. If you would like to learn more information regarding eye exams from Integrity Eye Associates, or wish to know more about the services we offer, contact us today to get your vision back on track. Filling out our contact form is the simplest way to schedule your next eye exam or to learn more information. We look forward to hearing from you.
If you wish to find out more information about Integrity Eye Associates and our helpful eye exams, we encourage you to reach out to us today, so we can get your vision back on track. You can schedule an appointment for an eye exam or learn more about our designer frames by calling us or filling out a contact form. We look forward to hearing from you!